This training is the fundamental training product in our offer. It takes place several times a month, and participants have a choice of many dates of training. The training lasts 36 hours and is conducted in outdoor conditions.
Our company also organizes other trainings and expeditions for ex. to: Sweden, Croatia, Ukraine, and to Bieszczady and to Beskid Niski. However, to participate in such trip you need to go through 2-day full training firstly, which covers all aspects of real survival techniques – we need to get to know you.
Our school is a real and true way to improve your and your loved ones' security in every situation.
You don't need to have anything!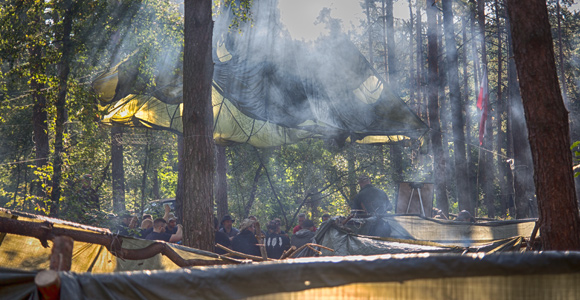 We provide you all the equipment for training and food! If you do not own any sleeping bag, mats, knife or cup – it is us that guarantee you the highest quality equipment.
So, If you want to experience the adventure and learn real survival techniques, you need to have virtually no equipment. You don't need to ever think about it. Just when filling out the questionnaire you check what you do not have in you inventory and you will get it without any charge on-site – it's completely free of charge. The level of knowledge transferred on the training is adapted to each and every person, regardless of age and gender.
Prior to joining the course, signing up at the right participant panel you fill in a special questionnaire, through which we know exactly your experience and how to prepare theoretical and practical course that all the material was for you a new and surprisingly useful.
The course covers all major issues in coping with extreme situations – from the psychology of survival to the survival equipment.
Full survival training – 2 days
Classes are performed in a practical way. Course participants take on the lost tourists. Firstly, they will have to familiarize themselves with survival techniques then perform task, which confirms their preparation and knowledge of the survival activities. The first day of the course is conducted on-site in the "survival base"; built of improvised methods accepted in our latitudes.
It begins with lectures on the psychology of survival and the development of adequate action attitudes in crisis situations.
The psychology of survival will be discussed on the basis of the most interesting survival cases that took place in the world. Another lecture point will present the S.T.O.P. PLAN. system. Lecturers will discuss with you principles of the practical situation of each survival. Then you will learn about the latest equipment and find out what exactly should be selected for various survival activities and emergency situations.We will talk about knives and how to select them, based on most models most commonly used in survival activities available on the Polish market. Everyone will have the opportunity to test top models and to answer the question which one to choose. We have in our collection a few dozen survival knives and we tested more. Hence, we have a vast knowledge of work with these tools.
The whole lecture will, of course, be combined with practical classes on techniques to start fire. From the preparation of tinder; feather sticks; and hearth to methods of starting a fire using many types of flints the highest quality available on the Polish market (BCB, MVH, LMF, Exotac).
You will learn the examples of the different types of flints and which one to choose for your type of activity field. In addition, we show how to start a fire using improvised means such as flares, ammunition, chemicals, etc.
During the training you will eat military rations with a heater, which will be your supply of food during training – such a piece of equipment is also justified because during natural disasters just such food will be provided to cut-off areas. It is worth to get familiar with this and learn how to use them.
At the training we focus on a few key elements. One of them is the alarm signal. You will learn how to call for help in any conditions. We teach you how to use the sun and heliograph, how to do it at night, how to prepare campfire lights. The full list of topics that will be presented at the training can be found in the table below. Each of them will be carried with you in real terms in real time. This is our greatest quality. On the second day you will know the ins and outs of navigating through field objects and compass. We will teach you to determine azimuths and find your way in virtually all directions. Navigation module in our training is very developed and takes several hours. We will learn about the myths of navigation that in fact don't work and on methods which are sure-fire in all emergency situations.
We will learn to set directions based on the sun, natural field objects, and build improvised compass. We conduct all the elements of navigation in a practical way.
Then you will gain knowledge of how to filter and purify water from any natural source.
Exclusively on our course, you will boil water in the empty food package and weather-proof jacket. During water filtration classes, students will get acknowledged with carbon and mechanical filters of known manufacturers. You will also get to know how to treat the water with potassium permanganate, iodine and water treatment tablets.
After the treatment water will be consumed.
Participants will be trained in the field of emergency call and rescue signaling in the open air.
We will learn how to build a signaling campfires, their configuration and signinficance in real survival situations.
We suggest our training for all persons that spend time actively in the field: journalists working in inflammatory regions of the world, pilots, travelers, skiers, mountaineers, off-roaders, and those who want to increase the level of their security through knowledge and practice.
We are the only such a method; in the Europe to get to know real emergency survival systems and procedures – we do not deal with bushcraft or relax in the fresh air and nature.
When you break a leg during an alpine ski trip the only thing you need is to get home as soon as possible . The equipment, which we will teach you to choose to the situation may save the your and your loved ones' life.
During registration for the training you will learn what to take with yourself to the training, what is important and what will be secured for you –  if you do not have it.
You will learn the organizational information related to the time and place of the course start, a place where you can leave your car, etc.
Before each course, each customer fills in a questionnaire, which allows us to examine the level of knowledge and training of potential participant and gives us the possibility to choose the scope of training specifically for each group.
This type of training is conducted in several places in Poland, in our resort on the Krakow-Czestochowa Jura near Czestochowa, Warsaw and the Tri-City areas (Gdynia-Gdańsk-Sopot).
Survival course in English is conducted in Częstochowa (our private training center). – at the moment all training dates refer to the resort in the Jura near Czestochowa.
Required equipment:
Clothing suited to weather conditions in the day. Clothes may be damaged during exercises (soiling, rubbed, riddled by the terrain, rocks, trees, fire – Survivaltech company does not take responsibility for such cases. It is a natural situation during the performing of survival techniques and any outdoor activities).
Comfortable, tested and fitted shoes suited to local conditions. Preferrably top high ankle shoes.
Hat, gloves – adapted to the weather conditions
Headlamp
Gloves for workers (those in which we can work with the fire and by the construction and to protect our hands from dirt, moisture and minor injuries)
Sleeping bag – if you have your own
If you have that might be useful:
knife
canteen
additional torch
a few meters of string
After the training, each participant receives a certificate specifying the extent of training spent. The training starts on Saturdays 10.00 at the railway station in Czestochowa. Then participants are transported to the training area. The training finishes around 17.00 / 18.00 on Sunday (unless physical, mental state of students or other factors directly affecting the security would prevent planned completion of the course).
The course programme provides going through following issues:
The fundamentals of survival. Systems of operation in difficult situations. Survival psychology (S.T.O.P. P.L.A.N procedure).
Survival equipment – rescue kits, survival knives, tools for survival
Building survival shelter
Building shelters made of improvised objects
Methods of starting a fire (Swedish flints, rescue flints, improvised methods)
The "feather stick" method.
Water filtering methods (potassium permanganate, iodine tablets to purify water, the domestic
bleach)
Water filtering methods (mechanical filtration methods)
Methods of navigation in the area by using field items
Methods of navigation using compass
Overnight in the area in improvised conditions
Night navigation using the stars
Emergency call techniques using the improvised and emergency equipment
Techniques of work with survival tools
Techniques of preparing simple meals in the area
This is a comprehensive course of an emergency survival.
Distance to cover – from 6 to 12 km
Training pricelist:
| Price (Euro) | Course location |
| --- | --- |
| 149 / person | Częstochowa* |
| 199 / person | Sławutowo – TRI-City |
| 499 / person | Częstochowa* |
*Price includes transport from Częstochowa main train station to course place and back,  price includes all the training gear, equipment and food rations, prices includes English translator
** Price includes transfer from Warsaw or Katowice Airport to Częstochowa and from hotel to training place and back, price includes accommodation in hotel one day before course and one day after course, price includes all the training gear, equipment and food rations,  prices includes English translator